Farm Fresh Produce

The type of vegetables grown on the farm varies according to available markets. In the past, I have grown winter squash, pumpkins, bok choy, black Spanish radish, pattypan squash, yellow zucchini squash, and sunchokes. Current crops are potatoes, cabbage, and sweet corn.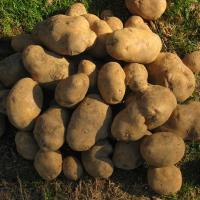 Potatoes

Mountain-grown potatoes have a superior flavor to those grown in the lowlands; presumably due to a cool climate and unique soil. I have several customers in the foothills and Piedmont who can testify to the exceptional quality of mountain potatoes. We grow a variety of potato called Kennebec. It is the standard variety in this area and has been for many years. The texture and flavor of Kennebec far exceeds that of the conventional russet potato found in grocery stores.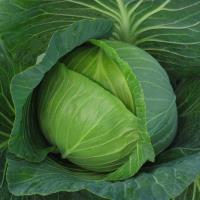 Cabbage

Cabbage was once a major crop in northwestern North Carolina; Watauga County in particular. The cool, wet mountain climate provides the perfect growing conditions for cabbage. It can be easily grown in the mountains during the hottest part of the year when the heat in the Piedmont and coastal plain makes cabbage production prohibitive in those areas. Therefore, farmers from the mountains could sell cabbage in the lowlands at good prices in the summer. My grandpa would often sell cabbage in Columbia, South Carolina, and return with watermelons and peaches.

The following is taken from an article in High Country Magazine (October 2009) by Val Maiewskij-Hay: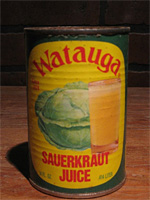 A cabbage cooperative was formed in 1923, named the Watauga Cabbage Growers Association. More than 90 farmers were members. Its stated intent was 'to sell cabbage intelligently', which meant the establishment of a sauerkraut factory. It had the capacity to produce 15,000 cans per day. The cooperative also sold kraut fresh in 80 lb tubs and barrels. The factory closed after operating two years, but was revived in 1929 by three North Wilkesboro businessmen who named it the North State Canning Company. "The kraut factory was important for the local economy. It provided seasonal employment from August to February and it was a consistent buyer of cabbage. Since the kraut factory was a guaranteed market for cabbage, more farmers planted it; in 1929 cabbage was cultivated on 595 acres, and by 1934, on 1,750 acres. Farmers would sign a contract in March agreeing to grow a specified number of acres for the factory. In the 1970s, the factory made an average of 2,200 to 3,000 tons of kraut per year, canning 24,000 cases per day. The company had its own truck and delivered sauerkraut to retailers in North Carolina and adjoining states." The product was also sold by MDI, Thomas & Howard, A&P, and Winn-Dixie. By the 1970s, fewer farmers were growing cabbage, and consequently, the company had to pay more for the crop. Consumption of kraut was also declining. These factors and changes in ownership resulted in the closing of the factory in the late 1970s.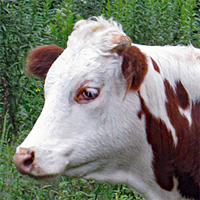 Cattle

Cattle on the farm are typically dairy breeds raised for beef. They are usually sold on the market, but occasionally I have sold steers to individuals who want a whole beef. The way this works is that a customer pays me for a live steer and I deliver it on-the-hoof to the meat processor in Wilkes County. The customer makes arrangements with the meat processor and pays them directly. Contact me if you are interested in purchasing a whole beef. However, be advised that the meat processor is backed-up over a year, last I heard.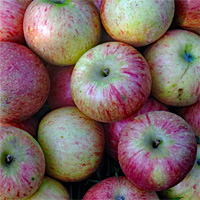 Apples

The farm produces a couple dozen heirloom apple varieties on approximately 80 trees. Click Here for descriptions and photos. A few years ago, one of my chef customers was invited to be guest chef at the famous James Beard House Restaurant in New York City. She requested some of the farm's apples (the Gragg variety) to take with her to make a dessert. So, I suppose I can claim that the farm's apples have been served at some of the finest restaurants in New York City.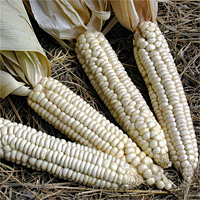 Cherokee Corn

I grow a rare variety of flour corn for seed saving purposes only; i.e. to protect the variety from extinction. It is called Cherokee Ginitsi Selu. I obtained it originally from a grower on Seed Savers Exchange and he got it from the Cherokee Reservation in North Carolina. I re-offer seeds every year through the organization to anyone who wants to grow it too. The seed source says it has been grown by the Cherokee for at least 1,000 years. The corn's distinguishing characteristic is that it has a pink blush on many kernels. Contact Us if you want some seeds to grow yourself.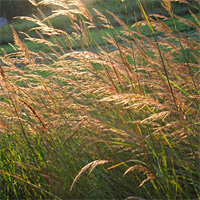 Native Grasses

While not a crop per se, I have experimented with native grasses on the farm for several years, and have a nice patch of several varieties.

Click Here for an article I have written about native grasses.




Click Here for miscellaneous information about the farm and more photos.